Aug 24th 2019
9:00 am - 2:00 pm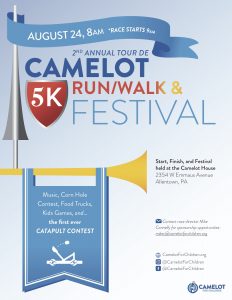 Join us Saturday August 24th, 2019 on the Camelot for Children campus for our 2nd Annual Tour de Camelot and first ever Festival. Stay for music, games, a CATAPULT contest and Corn Hole tournament.
Click HERE to REGISTER for the 5K and Fun Run
Sponsorship Opportunities Available.  Download the form here or contact us at info@camelotforchildren.org.
Registration for the Corn Hole Tournament is OPEN
Click HERE to REGISTER for Corn Hole
Parking is available at the Aetna Felt Co. located across the street from Camelot at 2401 W. Emaus Ave.
Food Trucks by The Sticky Pig, The Rolling Barista, Big Guys Hot Dogs and The Inside Scoop!