Camelot for Children was founded in 1985 as a gathering place for children living with life changing illnesses. It has provided care to thousands of children suffering from pediatric cancer, cystic fibrosis, and various diagnosis, including cerebral palsy and down syndrome.
Camelot was created to provide a place for these children and their families to meet, finding support and friendship in those with similar experiences. Patricia Mullin, along with Camelot's co-founder Kostas Kalogeropoulos, had a vision of a safe haven to provide respite to these extraordinary families. Camelot's doors opened in 1987 to serve 20 children, but quickly grew to a community well over a hundred children.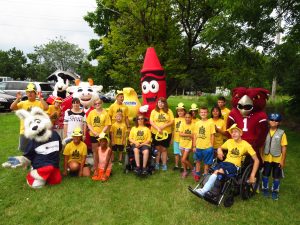 Since 1987, volunteers tirelessly gave their time and talents to remodel and furnish the house they purchased on Emmaus Avenue in Allentown.
As a result of the amazing support from volunteers and donors across the Lehigh Valley, Camelot has grown into a valuable asset for the community and continues to support children and families in a fully accessible facility. Camelot's ten acre campus includes Yeager Fuel's splash pad, Abby's Attic outdoor playhouse, the Roger Worman Memorial Education Room, the American Bank Camelot Court, and a number of multi-purpose classrooms.
Camelot is grateful for the rich history of its organization. The deeply rooted connections to the community provide a strong foundation for a promising future.
Mark Jaindl, Past President and current Director of Camelot, commented, "Those connections were never stronger than in June of 2017 when the Camelot Board, the staff and volunteers from surrounding high schools, came together to support Camelot and host a tremendously successful summer camp.
Camelot has always been, and will continue to be, committed to the children and families of Camelot in the Lehigh Valley and beyond.
My children had dealt with severe illness with great courage. They were the inspiration for Camelot for Children which provides a meeting place for ill children and their families for the purpose of providing friendship and support.

Patricia Mullin | Co-founder, Camelot for Children