May 11th 2019
6:00 pm - 9:00 pm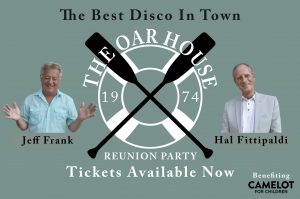 Tickets are now on sale to "ROCK THE BOAT FOR CAMELOT FOR CHILDREN "  
Jeff Frank and Hal Fittipaldi will once again be your hosts for an evening of dancing, magic and memories on May 11, 2019 from 6:00 to 9:00 at The Columbian Home, located at 1519 Greenleaf Street, Allentown, PA.
Tickets are $25 .00 in advance and $30.00 at the door. You can purchase tickets three ways:
– Call Camelot for Children at (610) 791-LOVE (5683)
– Purchase Tickets on Line at https://crm.bloomerang.co/HostedDonation?ApiKey=pub_86afe36f-dc24-11e7-afbe-024e165d44b3&WidgetId=1444864
– See Hal Fittipaldi, our man about town
Camelot for Children is a non-profit organization providing year-round social and educational opportunities to children with disabilities as well as chronic or terminal illnesses in a supportive, developmentally appropriate, enriching environment that makes the magic of childhood accessible to children with unique needs.
Whether you joined us in September or not, you won't want to miss this one.