Aug 26th 2018
8:00 am - 11:00 am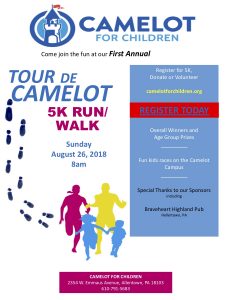 See below for information regarding the results of our First Annual Tour de Camelot
Thanks to everyone who participated in Camelot for Children's first annual Tour de Camelot 5K Run/Walk last Sunday!

Please find below the link to the 5K Results, now posted on OnLineRaceResults.com under Camelot 5K.

http://www.onlineraceresults.com/race/view_race.php?race_id=65346

Special congratulations to our Female Overall Winner, Hannah Oliver!  A mistake was made in the award for 1st Place, but we have corrected this with Hannah, who ran a blistering 21:56!  Congrats, Hannah, on a great race!   And for being so understanding about this mistake.

On behalf of Camelot for Children, I hope all of you will join us next August for our 2nd annual Tour de Camelot!